Lemony Snicket: Una Serie de Eventos Desafortunados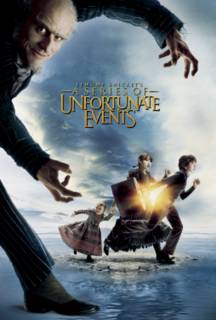 Lemony Snicket es el seudónimo de Daniel Handler, que a los 34 años ya ha publicado 11 narraciones para niños. Cuentos infantiles, pero no infantiloides, porque Snicket --al igual que los Hermanos Grimm y Roald Dahl-- filtra elementos inquietantes y pinceladas de terror.

Veintisiete millones de ejemplares en el mercado internacional han derribado ocasionalmente a Harry Potter de su trono de ventas en el género. Prueba de que a los chicos les sigue gustando que les metan un poquito de miedo.

Y hay que advertirlo, el filme tiene bastantes deliciosos sustos.

"A Series of Unfortunate Events" se basa en tres novelas: The Bad Beginning, The Reptile Room y The Wide Window, adaptadas por Robert Gordon y narradas por Jude Law, asumiendo la voz de Lemony Snicket y dándole a la película un tono entre siniestro y juguetón.

La cinta narra las desdichas de los hermanos Sunny (Kara/Shelby Hoffman), Violet (Emily Browning) y Klaus Baudelaire (Liam Aiken), quienes se ven solos en el mundo cuando sus padres mueren trágicamente en el misterioso incendio de su hogar. Lo que no saben es que sus penalidades solo acaban de empezar, ya que pasan a ser custodiados por el avaricioso Conde Olaf (Jim Carrey), un pariente lejano que pretende heredar a toda costa la fortuna de los Baudelaire.

© UIP
El vivo y sano interés que el cine infantil siente en los últimos años por la literatura está permitiendo la revitalización de un género poco cuidado (obviando las cintas de animación), aunque se deba más bien al éxito de sus obras de referencia que a la calidad de éstas.

Sin embargo, y quizá abrumados por tantos años de Harry Potter, las historias de los hermanos Baudelaire, narradas por Lemony Snicket, consiguen insuflar aún más vida a las aventuras pensadas con el bolsillo para los niños e ideadas con la pluma y la cámara para los más creciditos.
El nivel de oscuridad que muchos esperaban de "El Prisionero de Azkabán", bastante contenido, se perfila aquí, a través de los hermanos huérfanos, vinculados, al igual que todo desamparado que se precie, desde Oliver Twist hasta el archifamoso mago con gafas, a un tutor de mala calaña, el pie de esas (poco numerosas) catastróficas desdichas.

La película, al contrario que la saga Potter, posee un fuerte sentido de la narración y, sobre todo, de la estética.
Las declaraciones de Lemony Snicket bien podrían ser los sueños fantasiosos de un Burton niño.
© UIP
El mundo literario que se esboza detrás de esta película se antoja fascinante, y es probable que el mejor legado de la misma sea la incitación a aproximarse a las novelas originales, para, de paso, proceder a la desintoxicación de niños magos.
"Lemon Snicket: Una serie de eventos desafortunados" es cine infantil-juvenil inteligente. Una deliciosa fábula sobre el tesón y el infinito potencial infantil para dejar en pañales, si es preciso, los argumentos adultos, sobre el amor fraternal y la necesidad de ir de cara ante las dificultades.
Hay pocos peros que ponerle a este inhóspito cuento de gótica apariencia, que deja fluir imaginación a borbotones y que tiene la delicadeza de tratar al infante como ser pensante, y no como mero consumidor pasivo. Posee el bagaje mágico de los mejores textos del Roald Dahl más surreal, o incluso, de un C.S. Lewis dado la vuelta, con un idealismo de lo feo, de lo grotesco.
Esta no es una comedia de las de carcajadas, sino que esta "serie de eventos desafortunados" juega en el terreno de lo sutil y de los dobles sentidos, pese a la presencia de un Jim Carrey en un par de ocasiones inadecuado (su legendaria imitación del tiranosaurio, por muy graciosa que sea, está fuera de contexto), pero acertado en su voluntaria exacerbación de los recursos histriónicos de los actores malos, por no hablar de esos fugaces momentos en los que asoma la parte más terrorífica de su personaje, el repulsivo Conde Olaf.
Dirigida por Brad Silberling, californiano curtido en numerosos episodios de series televisivas de renombre como Alfred Hitchcock presenta, Policía de Nueva York, Doogie Howser, entre otras, también dirigió en 1998 la cinta romántica "City of Angels".
© UIP
En cuanto al reparto, aparte de la divertida y malvada actuación de Jim Carrey, quien admitió desconocer las novelas protagonizadas por su personaje, está la veterana Meryl Streep, en el papel de la neurótica y extravagante tía Josefina, además de un cameo de Dustin Hoffmann y la aparición de Luis Guzman.
Teniendo a Barry Sonnenfeld como productor ejecutivo y con la ironía (o buen tino, como se quiera ver) de haber reunido a la gente de confianza que trabaja con Tim Burton y Alfonso Cuarón, el filme está dirigido a los adultos y a los niños mayores, esos que son ávidos lectores de libros, personas creativas y/o sociópatas que disfrutan más sumergiéndose en peripecias angustiosas que babeando ante los colorines y canciones del cine infantil menos respetuoso con el espectador.
A nuestro gusto, y poniéndonos en plan muy quisquilloso, lo único flojo de la cinta es el guión, debido a que han querido condensar los tres primeros libros en una sola historia, parece como si toda la trama pasara demasiado deprisa, como si toda la aventura ocurriera en apenas unos minutos, cuando se nota que no debería ser así. Pero si usted se deja envolver por la propuesta visual de esta oscura e irreverente producción, seguramente no notará ese pequeño detalle.
Y si la película resulta ser una sorpresa, espere a ver los créditos finales.
Nuestra Opinión:
@@@1/2

Lemony Snicket: Una Serie de Eventos Desafortunados

(Lemony Snicket's A series of unfortunate events, Estados Unidos 2004)
Director: Brad Silberling
Guión: Robert Gordon sobre las obras de Daniel Handler
Música: Thomas Newman
Fotografía: Emmanuel Lubezki
Con: Jim Carrey, Meryl Streep, Emily Browning, Likam Aiken, Timothy Spall, Luis Guzman, Jude Law, Kara Hoffman, Shelby Hoffman
Duración: 108 minutos
Distribución en México: UIP
Clasificación:
@
Insoportable,
@@
Regular,
@@@
Buena,
@@@@
Obra Maestra
Correspondencia con esta oscura columna:
codigocine@yahoo.com